PokerNanza
PLAY HERE!
Play PokerNanza – Available Today!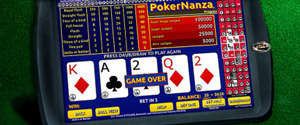 Sunday – Thursday from 8am to 12am midnight,
Friday and Saturday from 8am to 2pm.
PokerNanza tablets available at the main Cashier window.
No offering .25, .50, $1 and *$5 wagers.
*Mega Jackpot $60,000
Super Jackpot $12,000
Bonus Jackpot $3,000
FREE POKERNANZA TOURNAMENTS – Wednesdays and Saturdays 6pm to 8pm. Begins June 20th!
How to Play